The Collections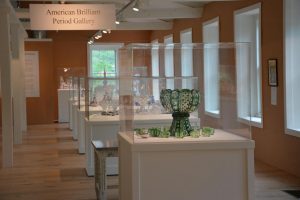 With more than 2,600 finished glass objects, the Dorflinger Glass Collection at the Dorflinger Factory Museum is one of the largest and most comprehensive collections of Dorflinger glass in the world. The Collection includes factory samples for Dorflinger's orders for the White House, beginning with the Lincoln Administration and extending through the Wilson Administration. Other special orders represented in the Collection are examples from the wedding service for William K. Vanderbilt, Jr. and Virginia Graham Fair in 1899, from the extensive table ware service produced for President Mario G. Menocal of Cuba in 1918, from a set of table ware for the Canadian Pacific Railway purchased for a visit by the Prince of Wales in 1919, and from several table services made for yachts. The Collection also includes a unique regulation-size cut glass baseball bat made for local baseball hero Eddie Murphy during the 1913 World Series, and an exceptional green cut-to-clear punch bowl set cut in Dorflinger's Montrose pattern, one of only five known color punch bowl sets cut in this pattern. In addition to these finished objects, the Collection includes numerous undecorated glass blanks and partially completed objects, which provide valuable insights into the
glassmaking and decorating process.
The Museum also houses the Ray LaTournous Collection of Dorflinger glass. Assembled by noted Dorflinger glass authority and sixth-generation glass cutter Ray LaTournous over his lifetime, the LaTournous Collection is an outstanding study collection of Dorflinger glass, including many objects from local families in the White Mills area with ancestors who were factory workers.
The Dorflinger Factory Museum's collection of early glass from New York in the 1850s and 1860s, and from White Mills in the 1870s, is housed in the former factory show room on the second floor of the Factory Office building. This early glass collection is among the largest and finest collections of this noteworthy period of development in the American luxury glass industry.
In addition to the Glass Collection, the Dorflinger Factory Museum has an extensive collection of artifacts from the operation of the White Mills factory, including glassblowing tools, benches, and machinery, glass cutting and engraving equipment, and factory furniture.
Finally, the Museum maintains an extensive research library, including a collection of archival material that documents the years of operation of the Dorflinger factories in Brooklyn and White Mills, as well as life in the industrial village of White Mills.