Who we are:
The Dorflinger Factory Museum is a regional industrial heritage museum celebrating the history and craftsmanship of the Dorflinger glass companies in Brooklyn, New York and White Mills, Pennsylvania. The Dorflinger companies produced fine lead crystal table ware for U.S. Presidents, governments, and wealthy individuals during the Gilded Age of the late nineteenth and early twentieth centuries. Housed in the White Mills factory's restored 1883 Cutting Shop and ca. 1888 Factory Office building, the Museum is home to a premier collection of Dorflinger glass from all periods of the factory's operation. Exhibits explore the history of the company and its visionary leader, Christian Dorflinger, how this remarkable glass was made and decorated, and how it was used in society. Exhibits include actual glassblowing, cutting, and engraving equipment from the Dorflinger factory, a ca. 1895 dining room set with Dorflinger glass, and the restored factory boiler room showing how the factory was powered.
Our history and mission: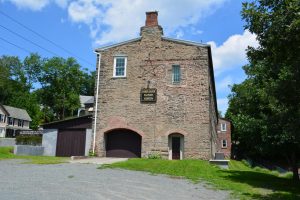 The Dorflinger Factory Museum opened to the public in July 2016 following an extensive renovation of the two remaining factory buildings in White Mills. These buildings are noteworthy examples of Pennsylvania bluestone architecture. The Factory Office building features fine interior woodwork of the Victorian era.
Our mission is to preserve and maintain the factory buildings, to collect, preserve, and display original artifacts from the operation of the Dorflinger factories, to build, preserve, and exhibit one of the foremost collections of Dorflinger glass in the world, and to educate the public about the history of the Dorflinger companies and the remarkable glass they produced.
The Dorflinger Factory Museum is separate and distinct from the Dorflinger-Suydam Wildlife Sanctuary and its Dorflinger Glass Museum, also located in White Mills. The Factory Museum's exhibits are intended to complement the fine Dorflinger glass collection at the Dorflinger Glass Museum.
Contact us:
The Dorflinger Factory Museum Administrative Office is open during regular Museum hours. You may contact James Asselstine, Director, and Kurt Reed, Curator, at:
Dorflinger Factory Museum
5 Elizabeth Street
P.O. Box 353
White Mills, PA 18473
Phone: (570) 253-0220
Email: james@dorflinger.net